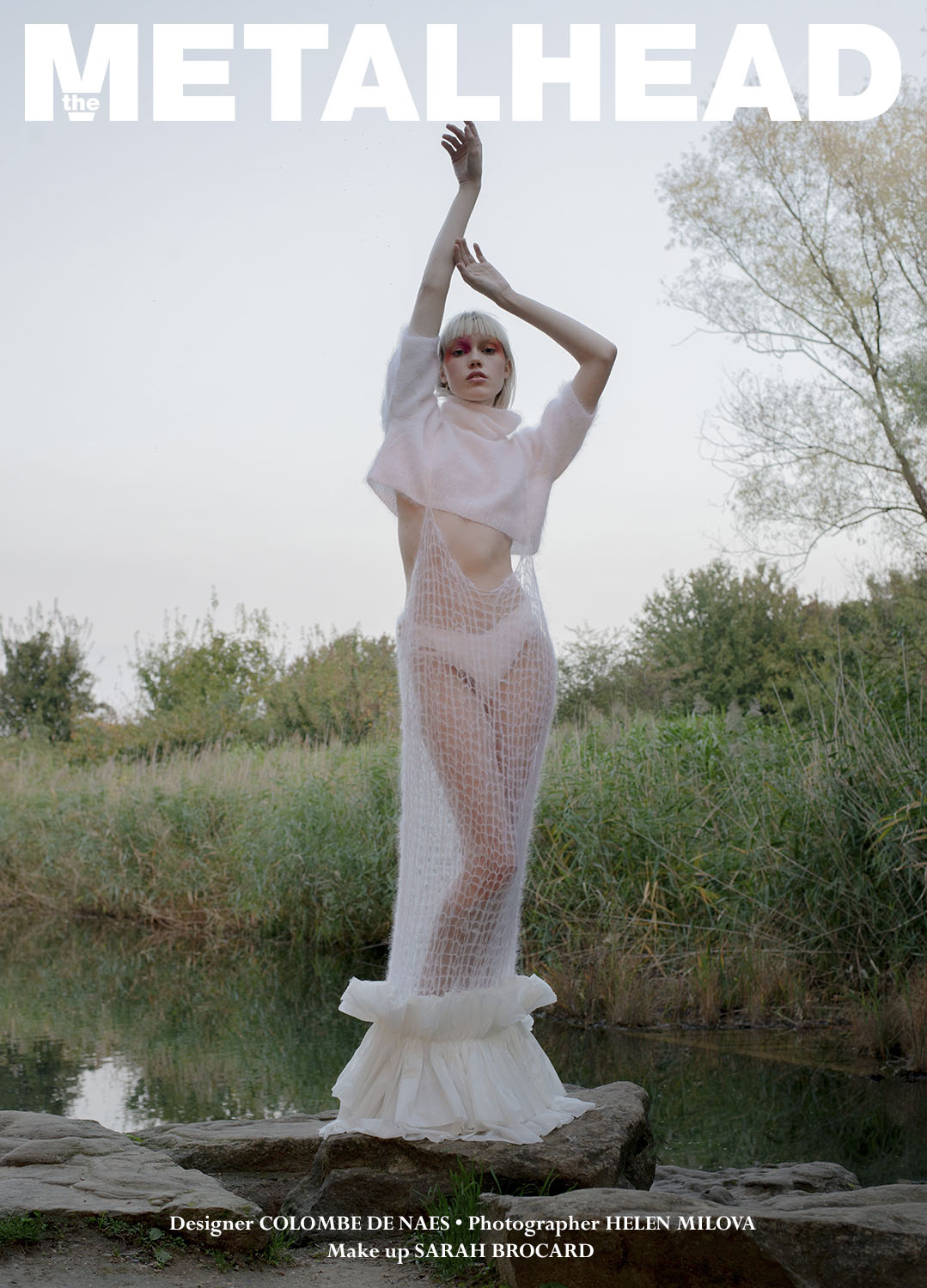 Hi Colombe, thanks for talking to the Metalhead magazine. Please describe in a couple of sentences origin and idea of your brand.

Hello Metalhead team, thanks for this interview!
Colombe de Naes is an emerging artisanal brand that creates unique designer pieces at the crossroads between sculpture and fashion. These wearable sculptures convey different stories depending on the way they are worn, displayed, laid and hung.
This designer brand and the Colombe de Naes textile experiments Laboratory were both conceived by Colombe, the designer. They are currently being established in Montreuil near Paris. The official launch is planned for early 2022.
Tell us a couple of words how your brand was established, how did you start working in fashion industry? Where did you study fashion?
I started to study art and fashion after high school, before that I had never done any design or I discovered my passion. Three years later I graduated with a degree in fashion and textile design. At that time, I was just discovering my identity but I already knew that I wanted to create my own brand.
Then I was an atelier assistant in a recycling center. That year, my desire to create an artisanal and sustainable project was affirmed, I was always thinking of new ways to upcycle. I also started working for several high-end and luxury brands, every year during the fashion weeks, sometimes as a dresser, tidier, production assistant, model, hostess, sales advisor and shop assistant.
In 2019, I was one of the winners of FoRTE #2, the Regional Fund for Emerging Talent, as a visual artist and designer. This allowed so many opportunities. Also since last June I created the Laboratory Colombe de Naes in Montreuil, the city where I grew up. Now finally, I'm ready to create the brand.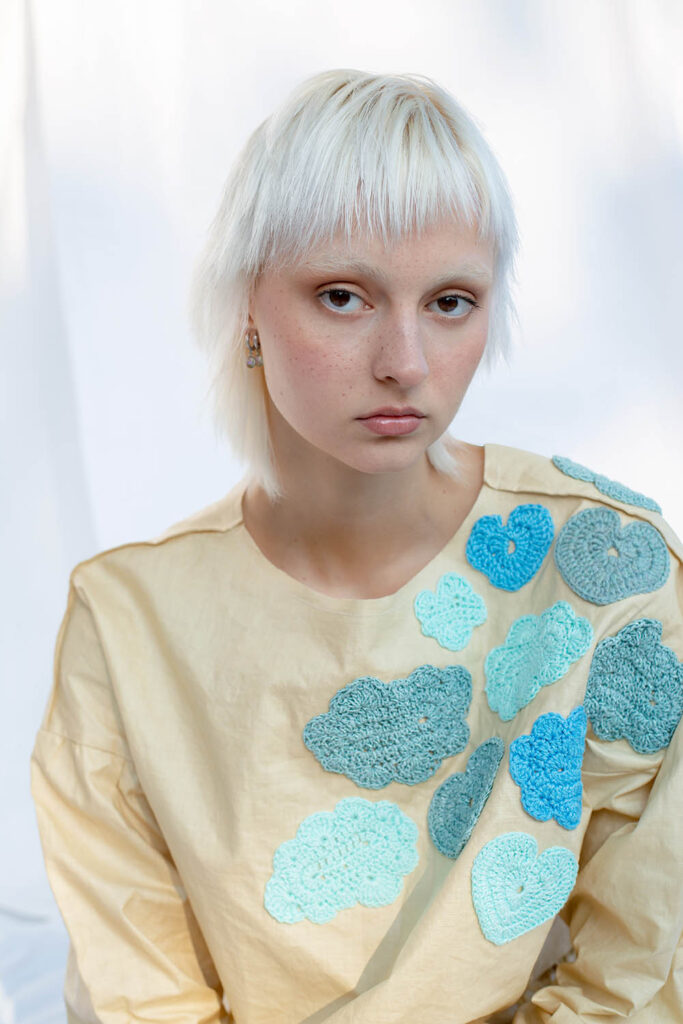 Who or what was your muse, your source of inspiration for the last collection and how was it created? Which ideas does your collection transfer to the world?
My latest collection "But God isn't that Good" is inspired by "It's all Good". A committed work by the photographer Boogie, which shows the predators and the prey of the drug game in Brooklyn.
I choose to draw my inspiration from scenes of everyday violence and social history of fragile countries. I seek to materially retranscribe the history of those who are described as minorities. These minorities which, in my opinion, are sometimes more like a majority of the population. In the image of the inclusive world I dream of, this is my way of telling them "I see you and I hear you". And I like to think that maybe if they wore my clothes, they would be looked at differently.
Tell us a bit about fabrics you use. As our redaction noticed, you use soft and tender materials like knitwear, transparent and silky textures. Is it the question of comfortability or also has a special idea behind it?
Oh yes, I'm very sensitive to fabrics, in fact I love them. They all have something special. In my work I use a lot of different wool, leather, Japanese technical fabrics and metal. What I like the most is to mix them together and confront their weight. As there are factors that I can't predict, it's always a surprise. I never really know what my pieces will look like.
The idea of combining extremely soft fabrics such as wool with materials as rigid as metal allows me to illustrate my point about the beauty of confrontations between poetry and violence.
I would say that there is also, without a doubt, a search for comfort. This is essential for me, both in the way the fabrics feel and fall on the skin and through the particular ease that the volumes allow. However, the truth is that not everyone is comfortable with transparency. Personally I think it's a good way to take ownership of your own body and not be afraid of people's perception. I would love it if it encouraged people to dare to rediscover their bodies.
What means "fashion" for you? How do you feel about gender in fashion?
I think fashion is an art form, a remarkable and powerful means of expression. In my opinion, the first impression is the one we convey through our fashion style and our energy. This environment has always fascinated me, as much in what it can represent, as in the craze that it confers and in the rejection that it can also provoke.
Fashion is slowly breaking free from gender codes, but unfortunately it's not yet completely democratized. Personally, I love to see my pieces being worn by different souls and different bodies. It's a great way to rediscover them.
In 2019, I was invited to show my Unicorn Gang collection three times. The first time the pieces were worn by two men and six women, the second time only by women and the third time only by men. I had three completely different and very enjoyable moments.
Let's come to the Metalhead exclusive shoot "Angels have soft skin" : What was the process of choosing the elements and location for the shoot and working on styling?
The idea for the "Angels have soft skin" project was to create a poetic, light-hearted, wonderland-like scene. A blue sky in a country setting, natural, warm and almost regressive, to present the triptych capsule of 2020 that I had just reworked. I think these pieces are so candy-like, it was the perfect combination.
With Helen, the photographer, we wanted to combine a second series, the two mesh lace dresses I had just created in the summer of 2021. We were looking for a way to oppose strength and softness, like a contrast, by proposing a different atmosphere.
What was important in the choice of the models, photographer and the mood you wanted to create with this story?
I proposed this project to Helen because we had already shot together, we have known each other for three years and, like me, she likes to experiment a lot. We immediately thought about Irès as a model. She perfectly represents the image of the brand and she had already worn my pieces, so it was a bit obvious.
Then, as there are two "mirror" looks that respond to each other in the Triptych, we chose Lexi and Luise. They have an air of resemblance and we really projected ourselves through the contrast that could exist between the three girls.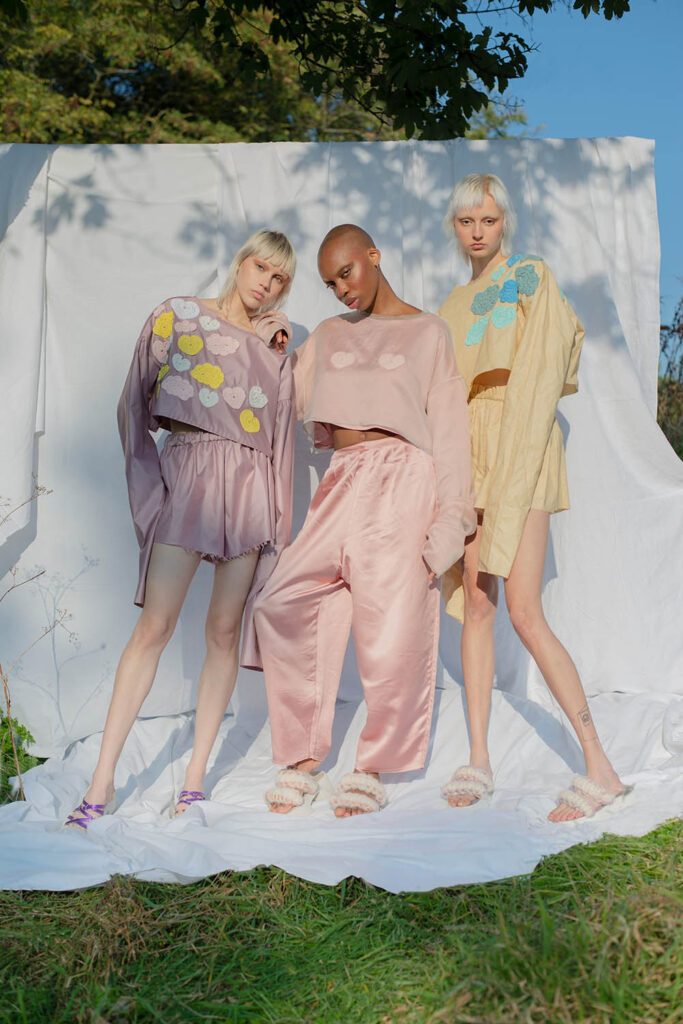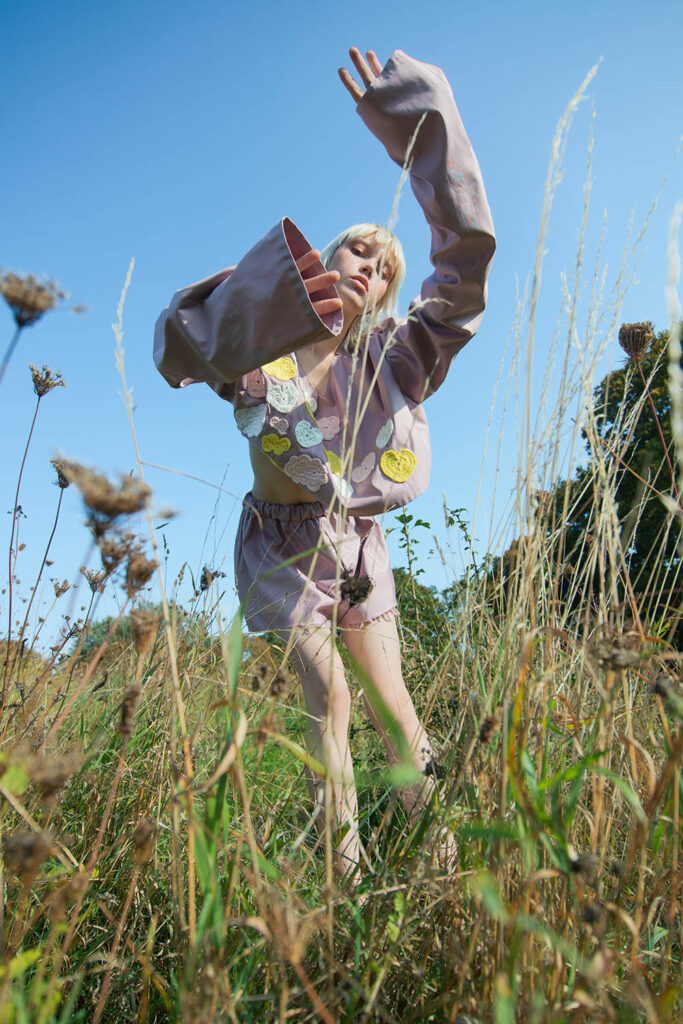 Is it hard nowadays to be an independent designer creating an own handmade brand? Which advantages and disadvantages you see in it after your experience?
Haha the famous question.. It would be a lie to say that it's easy to create your own brand as an independent designer. Yes, it's complicated. Especially when the production is handmade. But in reality, isn't that what makes this job and this choice even more beautiful? Every moment of design is a moment of freedom. And my greatest pleasure is to have the chance to share it.
I'm lucky enough to have the moral support of my family and friends. This support, the events, the people I meet, the sharing times, the advice and the compliments are a big part of the driving force. They have always opened me up to new opportunities and that's so encouraging. Sometimes I wish it would grow faster, but then I put it into perspective and remember how much this long process has actually allowed me to grow along the way.
Which sources do you use to learn about latest fashion news and trends?
In general, I only watch the shows of designers I admire or know. I built a lot of my fashion culture during my studies, when we were asked to analyze the shows of different designers. I keep up to date with the various news via social networks, I find it a good way to get an overview. Moreover, thanks to many magazines and editorials I can discover new photographers, stylists, artists and other talents very easily. I also often read the articles that appear in the newspaper Le Monde during the fashion weeks, I watch most of the Arte documentaries and I listen a lot to Adrien Garcia's podcast "Entreprendre dans la Mode".
Each big city has its own style; do you agree with that? People talk about "Berlin" style, "New York" or "Paris" style. Do you think that Paris influence your style and vision?
It's funny that you ask me this question, in Paris people often ask me where I come from as if I couldn't be French. I like sharing, I insist on this point because I think that cultures travel by symbols and references. Luckily I discovered some places in Africa and Asia at a very young age and I find that the diversity is very important in every way. I'm not sure I can claim to be influenced by the city of Paris. I like to be inspired by the history of different countries and most of the designers whose work I love were not born in France.
A very personal question: what do you prefer to wear in normal life?
I could answer "nothing" but that wouldn't be very corporate, just kidding. I've always been very detail-oriented and I particularly like jewelry. I wear a lot of it in combination, because I like to accumulate. I also have a lot of tattoos so I wear a lot of transparent clothes, I layer them and create compositions.
Most of my clothes come from second hand, I buy them at second hand stores and I also get them from my parents' and grandparents' closets. I love to combine them with the pieces I design, there is a gap that I find very interesting. If I really listened to myself, I would keep all my pieces for myself, especially since most of them are made according to my measurements hihi.
What are your top 3 personalities or brands that influenced you and your vision?
First of all, Martin Margiela, of course. He touches me through his vision, his way of thinking, of creating, his humanity and the singularity of his personality.
Then Felipe Oliveira Baptista. I discovered his aesthetics when he was artistic director at Lacoste, then I followed his evolution at Kenzo. I find him fascinating, he has such a sensitivity and he has this way of mastering volumes, colors and fabrics.
And finally, the D'heygere brand for its offbeat, surprising and extravagant universe. I think their team is so ingenious. I secretly dream about a collaboration between our two brands.
Looking ahead, what are your plans for future? Do you have a spoiler for us about your ideas for the next collection?
Currently I'm finishing the last looks of my latest collection "But God isn't that Good". In parallel I'm organizing my very first fashion show, scheduled for March or June 2022, to present this series of twenty-one wearable sculptures. This artistic and cross-disciplinary performance is co-imagined by myself in collaboration with the artists who will perform. Throughout the year 2021, I have decided to reveal some of the first looks in photos, videos and during several events. This will be an opportunity to showcase them in a new way and there are still eleven looks to be fully discovered exclusively during the show. I'll communicate the date when some details will be settled.
Regarding the next collection.. hmm, I'm willing to leave it a mystery haha. I can tell you that I know what photographic work it will be inspired by, I have an idea of the message I want it to convey and finally, I already know what I want to name it.
This new series will be completely different from my previous collections. I mean that I'll experiment with new techniques in the way I design the volumes and in the way I mix the fabrics. In fact, I'll probably mould all the pieces directly on a dummy, without any patterns. Usually I go through these two steps to perfect my volumes. I'm looking forward to explore, innovate and push myself. It's going to be both a challenge and a boost, and the idea of being able to show a new part of my world is very exciting and fulfilling for me.